How to Live Show
Live showing is just as the name suggests – showing your model in person. Larger live shows are held in venues such as a rented hall, while smaller shows might be held in a lounge room or garage. Live model horse shows are a great way to meet fellow collectors and make new friends.
The hall at Melbourne Live Show 2009.

At live shows, competitors gather together under one roof and place their models on a show ring table for judging, similar to a real horse show situation where horses compete in front of judges. The models can be viewed from all angles by the judge, so the showing standard is considered much higher than photo showing. Live shows follow a class list like photo shows, but for each class, models are physically brought down to the show ring (a communal table at the front of the room).

A judge then spends some time assessing all angles of the models in the show ring, and then places ribbons on the table for their placings. The show ring is then cleared for the next class, and the model that came first is then eligible for a Champion or other superior placing.

Prizes at live shows include ribbons (paper and satin), rosettes, sashes, trophies and other prizes, like model horses, chocolate or gift certificates. A model that has won a Supreme Champion or similar placing is considered to be an exceptional model of a very high standard.

Prizes at Mini Mania Live Show 2011.
The best part of live shows is the chance to catch up and meet with friends you might know from online (like the AIMHC forum). There`s also a chance for gossip in between classes, and there are always gorgeous models in the collections of other hobbyists to see. Live shows can have upwards of 20 people in attendence, although speciality shows (such as just for one finish or size) often have lower numbers of entrants.

In Australia, live shows are not held very often, but they are definitely increasing in frequency. Excitingly, 2011 saw the very first national event, the Down Under Nationals Championship Live Show, held by the Down Under Model Horse Society. Models who place first or second at a qualifying live show can then go on to show at the Nationals (DUN), where they can compete with other models from around Australia and New Zealand for titles like Grand National Champion. To find out more about DUN, please visit the DUMHS website.

ENTERING A LIVE SHOW

You can find live shows advertised in the AIMHC newsletter. Shows held by non-AIMHC members may be advertised on places like the DUMHS website (if it is a DUN-qualifying show) or the Model Horse Sales Pages. If you are interested in attending, contact the host. They should send you further information on the show, including the class list and entry form. A file with all of this information included is often called a show packet. This packet should also include a list of rules and FAQs, and important venue information, such as show starting time, parking and other facilities, and how to find the venue.
The show host may also be able to assist with local accommodation arrangements if required. You will need to make any travelling and accommodation arrangements well in advance. You may be able to attend the show as a day trip if it is close, but if the show is further away you may need to stay overnight. Some hobbyists even choose to travel inerstate for live shows!

Organisation is the key to enjoying your first live show experience! Once you have sent in your entry form and fees, you can start preparing. To help you on the day, a `run list` is very useful. It`s a modified version of the class list, with your horse`s names under the class they are entered in. It`s a quick and easy visual you can glance at on your way to and from your table.


An example of an entrant`s run list for a live show.
Notice the additional notes about props and tack beside each model`s name.

Model Identification and Documentation

Most show hosts will use the `hang tag` method to identify models at the show. A hang tag is a small price tag (or similar), with your model`s details on one side, and a exhibit number or similar on the reverse. If your model places, the exhibit number on its hang tag will be recorded, and will be used to help the host later when they are writing up show results after the show.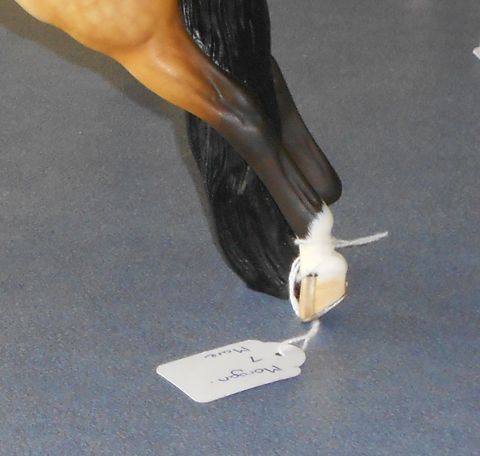 A model wearing a hang tag.

If a show is using hang tags, once you have submitted your entry form, you will receive a list of your models and their exhibit numbers some time before the show. You can purchase hang tags from newsagents, or sometimes the host will have tags available for sale. Follow the instructions in the show packet as to what model information you should include on your hang tags. The most common information is age, gender and breed, but some hosts like you to put the model`s colour down as well.

Model identification rarely includes the model`s name or its owner. This information is not included, as as to eliminate any chance of bias from the judges. (You wouldn`t want a judge to place a model over yours purely because the model was owned by their best friend, would you?)

On the opposite side of the tag, write the exhibit number, and then attach the hang tag to your model by looping it around a hind pastern, ready for the show.

It helps to take a few spare hang tags with you to the show, as they can mysteriously disappear!

Most shows will require an explanation card (documentation/description) for performance entries. See the `Performance Explanations` section under `Photo Showing` for information on how to format this.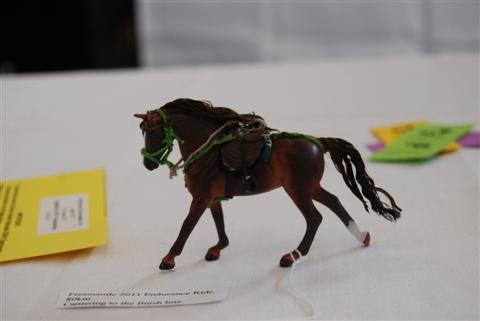 A model with an explanation card at a live show.
Packing
It`s best to start at least a week before the show, so you don`t have to rush. You may find it useful to write out a list of what items you need before you start packing.
How many models you take is up to you and what you feel you can handle. At a live show, you may like to talk to other entrants and look at the other models, so to avoid feeling overwhelmed, less than 20 models will be enough for your first show. If this is your first show, a small number of models will help you relax and take the show in stride, and will also allow you lots of time to talk to others.
If you are entering performance classes, gather together any tack and props that you may require, and pack these into a box or plastic container with a lid to make everything is easy to locate when it is required. Pack a container with spare glue, scissors, sticky wax, tweezers etc in case you need to make any repairs to tack while at the show. If your performance classes are the first ones on the day, it can be useful to tack your horses prior to packing them. They will then be just about ready to go when you unpack at the show. Use something soft, like toilet paper, to wrap around stirrups and bits to avoid damaging your models.

It`s a good idea to take a towel or blanket with you, as this can be used to lay on the table when you arrive at the show, and provides a soft base on which you will place your models when you unpack them.
You`ll need to carefully pack your models, wrapping each one individually to avoid them being damaged during transit to the show. There are lots of different methods you can use to pack your models, from bubble wrap and toilet paper to soft fabric and pockets. If you have a customised model, check with the artist as they may have recommendations so that you don`t damage the model`s finishwork.
Use wrapping material that works for you, and that you can quickly rewrap with at the end of the show. You might not have several hours after the show has finished to rewrap every model as perfectly as you did a week before.
Pack your models into large boxes, ready for transportation. Be sure to write your name and address on the outside of the box for ID purposes.
On the Day
Be sure to arrive at the venue at the specified opening time of the show hall, which will normally allow at least an hour (or more) prior to the start of the first class. Introduce yourself to the show host, and find a table to set up your models on. Most shows allow entrants to choose their own table, though it`s a good idea to check with anyone who has arrived before you to see that the table hasn`t been reserved for someone else. Once set up, you`ll soon find yourself chatting to other competitors as they arrive - don`t be afraid to introduce yourself! If you like, you can display your name or stable name somewhere on your person or your entrant table to help others identify you.
You`ll need to unpack your models, laying them down on the table (which you should cover with the towel or blanket), and attach each model`s name or number tag as specified by the show rules. If the show has performance classes first up, tack up those models ready for the first few classes if you didn`t tack them prior to packing. Performance showing is time consuming, so these classes are usually held at the start of the show so everyone has plenty of time to tack up.
Show rings at Melbourne Live Show, 2009.
When the first class is called, take any models that you have entered in those classes to the specified judging ring, set down the model then step away from the ring and wait for the judging to be completed. While you are welcome to look at the other entries, make sure that you give the judge plenty of room by keeping a good distance from the table when judging is in progress.
Judging in progress at Goulburn Live Show, 2011.
Remove your models when advised by the steward or judge, and take them back to your table. Keep an eye on the judging rings and your ears open for announcements during the day. Be sure to congratulate other competitors, and above all enjoy yourself!
At the end of the day, pack up your models ready for the journey home, and offer to help with the tidying up of the show hall/house if you are able. Thank the show host before you leave too. Results are normally typed up and sent to each competitor after the show.
Live Show Etiquette
This is a very basic overview to etiquette at a live show. If you would like to read more, you can read Sarah Minkiewicz-Breunig`s guide (written for the US hobby) at http://www.modelhorsegallery.info/library/LiveShowEtiquette.htm
Good sportsmanship is a given at all live shows. Be polite to all judges, volunteers, judges and the show host, and to all entrants and other guests at the show.

Be quick and courteous when taking your horses to and from the show rings. Keep your ears open for when the steward or judge calls for rings to be cleared.

Respect the judge. They are volunteering their time and knowledge (often without payment) to judge YOUR models. Understand that judging is based on opinion as well as knowledge. No two judges will judge a class exactly the same.




Do not run around the hall, and be extremely careful when passing by any entrant`s tables or the show rings.

Never touch a model owned by someone else unless you have their permission. This includes moving horses in the show ring.

Don`t criticise someone`s model. If you don`t like it, keep your thoughts to yourself.

Make sure you have read and understood the show`s rules thoroughly. Ask any questions before the show. If a show asks for documentation or explanations with performance entries, remember to put them with your entry in the show ring before judging has commenced.

If you want to ask a judge a question, wait until they have finished judging. Do not interrupt them, and be quick and polite while you have their attention.

Remember that the show is not all about you. If you do not place as well as you had hoped, don`t let it affect your mood. Be happy for the person who won.

If you have a problem with the way a class was judged, or an issue with another entrant, tell the show host quietly and discretely. They are the only person who can do something to help resolve the problem. Sulking will not help.

Thank the host, staff, volunteers and the judges before leaving. They worked hard for you and it`s good to acknowledge them for it. Don`t forget your newly found friends and table neighbours, too!

Remember that no show is perfect. Some hosts like to hear thoughts and feedback on the day. It`s good practise to send this, along with a thank you note, a day or two after the show once everyone has recovered. Keep your feedback polite, and remember that a show host runs a show for YOU. Don`t act ungrateful for all their hard work to run the show.

Take time out at the show to check out all the beautiful models owned by other people. Live shows are often the only place you`ll be able to see unique one-of-a-kind pieces, so take the time to appreciate them!
Waiting for a class or division? Chat to your neighbour or someone else. It`s easy to strike up a new friendship because you already have one thing in common: model horses!